Jerk Off Instruction Videos: Why People Find Joy in JOI
The beauty of jerk off instruction videos.
What is JOI? Jerk Off Instruction Videos Explained
Jerk Off Instruction – or JOI, pronounced like joy – is a popular porn search term featuring hot performers telling you exactly how to touch yourself to get off. Some JOI clips involve a "red light, green light" game, and some are more descriptive, almost like a guided meditation.
Why JOI?
People love JOI because it feels personal. Jerking off is effectively participating in JOI. If you normally do a lot of fantasizing while you're jerking off, it might be a fun change of pace to simply focus on the words coming from my beautiful lips. And if you've ever wondered what I think is hot, listen out for what I describe. When I make a JOI clip, you're getting a little peek into what I find sexy.
JOI as Roleplay
JOI is roleplay porn, giving you the experience of an erotic encounter with your favorite star. I love to do Jerk Off Instruction videos because they're so personal, and it gives me such an incredible connection to my fans. When you watch and listen to me tell you how I want you to touch yourself, I hope you can tell how turned on I am!
Jerk Off Instruction is a pretty broad category, which means that there are tons of role plays to explore! Just about any fetish you can think of can be turned into a JOI clip, and we can do the same with characters. If you know my work, you know that I love taboo roleplay – one of my favorites is step-mommy roleplay! Mixing taboo roleplay and jerk off instruction is the perfect formula for a steamy clip. I love that I get to be your naughty step-mom, telling you just how to touch yourself for me.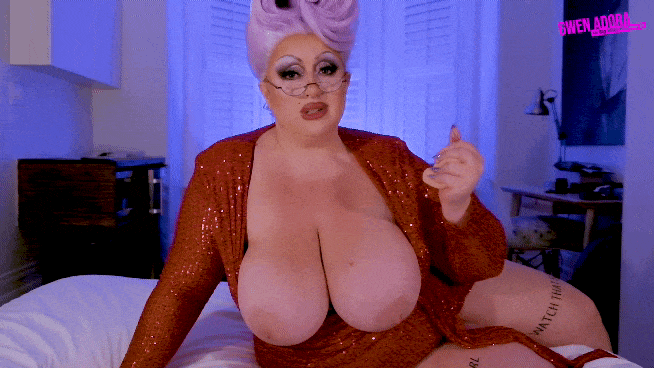 Mommy Domme JOI
Because I'm a voluptuous mommy domme with big juicy mommy milkers, I love to incorporate descriptions of my curvaceous body into my jerk off instructions. If you want to be bossed around by a hot bbw mommy domme, then JOI is going to be exactly your cup of tea! As though that wasn't enough, my sweet voice and infectious smile make my jerk off instruction clips even more addictive.
Jerk Off Instruction Videos as a Challenge
Do you think you can last the entire length of a Jerk Off Instruction clip from Gwen Adora? I'm not so sure…
If you've been wanting to work on your stamina, JOI clips are a super-fun way to do it! Try to keep up with my instructions and see if you can last longer every time. You want to please me, don't you?